Endodontics
Root Canal Treatment in Lucknow | Best Endodontists In Lucknow
Modern Dentistry In A Calm & Relaxed Environment.
We at Surya Dental Clinic have best endodontist in Lucknow, the specialist in saving teeth. Endodontics is the branch of dentistry concerning dental pulp and tissues surrounding the roots of a tooth. It is basically dealing with the cause, diagnosis, prevention, and treatment of diseases of the dental pulp, usually by removal of the nerve and other tissue of the pulp cavity and its replacement with suitable filling material. We provide Root Canal Treatment, Single Visit RCT, Restorative Dentistry, Fixed Teeth Replacements, Dental Implants, Crown and Bridge, a wide range in dental treatments.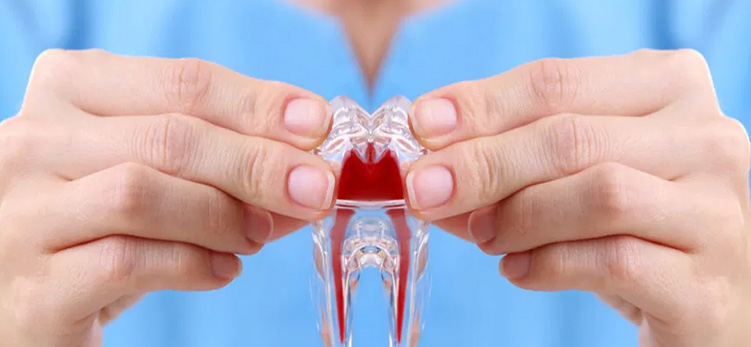 Available Endodontics Procedures From Endodontist Doctors in Lucknow:

The inflamed or infected pulp is removed and the inside of the tooth is carefully cleaned and disinfected, then filled and sealed with a rubber-like material.

A procedure for integrated management of oral health problems and restoring of the mouth to a functional and esthetic state.

Replacing missing natural teeth with artificial teeth, which are just as functional and esthetical as your natural teeth.

A dental implant is used to support one or more false teeth. It is a titanium screw that can replace the root of a tooth when it fails.

Crowns and bridges are a fixed solution to missing or damaged teeth. This restorative procedure uses prosthetic devices to return your smile to its natural state.
PLEASE FEEL FREE TO CONTACT US FOR EMERGENCY CASE.
We are here to help you with your dental requirements. We are just a call away.
+91 9839901239, 6389005001
0522 - 4000684