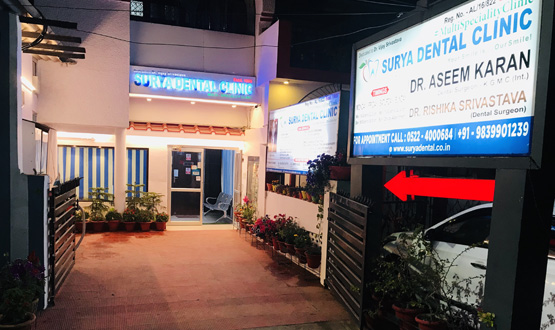 Surya Dental Clinic
Premier Choice for Dental Treatments
Surya Dental Clinic was founded by (Late) Dr. Vijay Srivastava in 1985 and was one of its kind during that time. Dr. Vijay Srivastava was the pioneer who introduced Northern India to the next level of Dental Implants at that time, and he acquired knowledge from Germany. He was completely dedicated to glorifying the smiles of his patients throughout his practice always. His sheer hard work and conduct made Surya Dental Clinic a household name and was well-known by even children. Dr. Srivastava had built an amazing and fast-growing practice but unfortunately, he passed away in the year 1999.
Now, Dr. Aseem Karan (S/O Dr. Vijay Srivastava), with his core team of specialists and his wife Dr. Rishika Srivastava pledged to carry forward the Dental Clinic and fulfil his father's dream.
Surya Dental has a vision of providing the best in Dental care in a pleasing and patient-friendly manner and is a pioneer in establishing the preventive approach towards dental ailments, helping people identify and treat problems far earlier. Right from dentistry for kids to senior citizens, we provide complete family dental solutions.
If you are looking for Best Orthodontic Clinic in Lucknow, then get in touch with us. We offer Root Canal Treatment (RCT), Teeth Whitening, Dental Implants, straightening of fractured teeth, Gum and Bone surgery, Wisdom Teeth Removal, Pediatric Dentistry, and a lot more. We are committed to providing unparalleled services and strictly abide by international sterilization and dental treatment delivery norms.
Why Our Patients Choose Us
Best Orthodontic Clinic in Lucknow
Our Dentists Constantly Learn new Techniques
Our dentists are always updated with the latest technology to treat patients
A Wide Range of Dental Services
We provide a wide range of dental services for you under one roof.
Best Equipments Used in Our Clinic
In Surya Dental Clinic we use latest equipment for the treatments.

We Provide Affordable Dental Treatments
We at Surya Dental provide very affordable dental care services and treatments.
Complete Dental Solution For Family
We treat everyone from children to adults, providing a complete dental solution for family.
We Have A Very Comfortable Clinic
In Surya Dental Clinic patients comfort and proper treatment is our aim and priority.
High-Quality, Affordable Dentistry and Orthodontics Provided by
Caring Staff in State of the Art Dental Clinic
Best Dentist in Lucknow | Best Dental Surgeon in Lucknow
Meet Our Doctors
Best Dental Clinic in Lucknow | Dental Surgeon in Lucknow
Complete your smile with quality dental treatment in the Best Dental Clinic in Lucknow and from the top dentist in Lucknow. Dental Clinic with highly experienced professional Best Orthodontist in Lucknow.
Dental Surgeon
Dr. Aseem Karan
B.D.S MIDA
Dr. Aseem Karan
Dental Surgeon
Dental Surgeon
Dr. Rishika Srivastava
Dr. Rishika Srivastava
Dental Surgeon
Consultant Oral & Maxillofacial Surgeon
Dentist
Dr. Jaykishan A Solanki
Consultant Oral & Maxillofacial Surgeon
Dentist
Consultant Orthodontics
Dr. Gaurav Gupta
M.D.S
Dr. Gaurav Gupta
Consultant Orthodontics
Dr. Megha Gupta
Consultant Endodontist
Consultant Prosthodontics
Dr. M. Anwar
M.D.S
Dr. M. Anwar
Consultant Prosthodontics
Paedodontics & Preventive Dentistry
Dr. Mohd. Sarfraj
Paedodontics & Preventive Dentistry